"Product Color and Size Variation for Opencart" Documentation by "John Rambo" v1.0
---
"Product Color and Size Variation for Opencart"
Thank you for purchasing my module. If you have any questions that are beyond the scope of this help file, please feel free to email via my user page contact form here. Thanks so much!
---
Table of Contents
---
A) Module Features - top
1) Color and Size Variation.
2) Add Image for each Variation Option.
3) Show Option Image in Mini-Cart and Cart Page.
4) Show Option Image in Admin Order Page.
5) Control from module settings.
5) Best Module for Color and Size.
5) Anytime support.
---
B) Installation - top
1) First you need to install vqmod if you have already then no need.
( vqmod downlaod link: http://code.google.com/p/vqmod/downloads/detail?name=vqmod-2.4.1-opencart.zip )
2) Now you need to unzip my zip file (opencart_color_size_module.zip) then you will see there is upload folder so go to upload folder and copy all the folder and paste to your project root directory no worry it doesnot chanage to your any core file if you got any replacement confirmation then click yes to all now open my sql_script text file and copy the sql query and run it to your database.

3) Done & Enjoy !
---
C) How o Use Module - top
1) At first insert a product from Admin.
2) Now go to option tab and select color after that you can add color with images.
3) Remember for color please add product image one variation also thats why customer can choose default product image also.
4) For Size Variation select "Radio".
5) Now go to admin module and install Color and Size Setup module and setup your module.
---
D) Preview/ScreenShot - top
Frondend Preview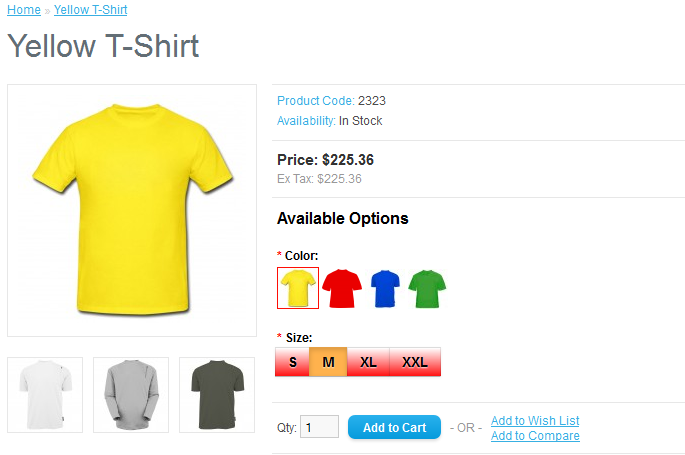 ---
Mini Cart Preview
---
Cart Page Preview
---
Admin Settings
---
Admin Order
---
E) Demo url - top
If you want to see live demo please visit our demo site
http://pluginbuilder.com/opencart-color-size-variation-module/index.php?route=product/product&product_id=51&search=yellow
---
Once again, thank you so much for purchasing this module. As I said at the beginning, I'd be glad to help you if you have any questions relating to this module. No guarantees, but I'll do my best to assist. If you have a more general question relating to the module on CodeCanyon, you might consider visiting the forums and asking your question in the "Item Discussion" section.
John Rambo
---