OPENCART RELATED OPTIONS MODULE
---
created: 03/10/2016
latest update: 11/10/2016
by: John Rambo
Thank you for purchasing my plugin. If you have any questions that are beyond the scope of this help file, please feel free to email via my user page contact form here. Thanks so much!
"Opencart Related Options Module" is the best module for opencart, It help to create custom variation for product suppose if customer select color red then all available size will be display so its related variation, admin can use this variation for other purpose also admin can control variation stock, image, delete from stock everything so its best module for custom variation. It is compatible for opencart version 1.5.3.1, 1.5.4, 1.5.4.1, 1.5.5.1, 1.5.6, 1.5.6.1, 1.5.6.2, 1.5.6.3, 1.5.6.4, 2.0.0.0, 2.0.1.0, 2.0.1.1, 2.0.2.0, 2.0.3.1, 2.1.0.1, 2.1.0.2, 2.2.0.0, 2.3.0.0, 2.3.0.1 and 2.3.0.2 .
First you need to install vqmod if you have already then no need.
Download Our Module and Unzip the Module.
Upload the Module website root directory if any confirmation then just yes to all (dont worry no chnages any core file).
Now go to Opencart options page from admin panel and create color (it must be select type) and create size(it must be radio type) and add color and size or what you want, after save all then you need copy color option_id from browser url and u need to copt size option_id from browser url.
Now go to module settings page and add your color and option id and setup other information from setting page.
Now go to Product entry page then you will see Related Options Tab now you can add your product custom variation from this tab.
Done and Enjoy
Admin can add unlimted custom variation for color and size and it related variation like size depend on color.
Admin can add image from variation like for color red red image and for yellow for yellow image and it wil be change front end product image when change color.
Admin Can customize module from module settings page.
Diffrent diffrent color order image will display into admin order details page.
Anytime Support.
Front View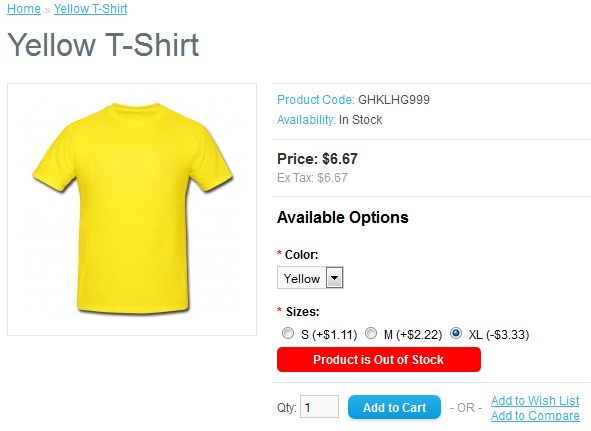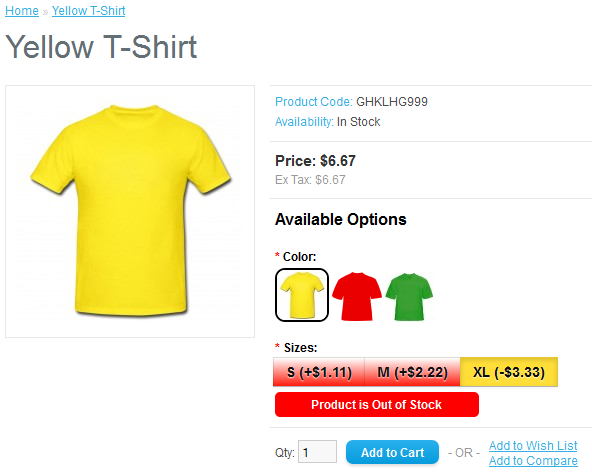 Admin View